The choice of flooring is of great importance in any renovation. The material, the colour, its warmth… will determine the overall atmosphere of any place. At Rocersa we wanted to dedicate this space to talk to you about warm floors, those floors that create relaxed, fresh and, above all, very luminous spaces.
Floors that fit in with any type of decoration, with any type of furniture, with walls and textiles of all kinds of colours, floors that, in the end, are much more 'tolerant' with the rest of the elements because they combine with almost any chromatic range.
Types of warm floors
The types of warm floors you can find on the market are numerous, although one of our favourites are those that imitate wood.
Wood is a noble material that transmits a lot of warmth and naturalness, that is why there are many types of floors that imitate this element of nature.
Warm imitation wood floors are floors linked to the earth, which provide elegance and warmth, softness and even modernity, floors capable of adapting to different rooms such as kitchens, living rooms, bedrooms, and even bathrooms and terraces.
In addition, this type of flooring creates a wood effect, avoiding the felling of trees (as it is not real wood), an action that causes great disasters in the ecosystem and a great loss of biodiversity.
How to select warm flooring
Choosing warm flooring for a home or business is not always easy. There are a few factors to consider: installation location, resistance, slip resistance and tone.
Where it will be installed: the place of installation is important, the same floor should not be selected for a shop, indoor area of a home, outdoor area, etcetera.
Resistance: consider scratch resistance and wear resistance.
Slip resistance: Slip resistance is important when selecting flooring. In wet areas, e.g. in the shower or outdoors, where it can rain, it is important to select a non-slip floor.
The tone: the tone corresponds to a shade of the ceramic batch. Depending on the tone, we can tell whether the floor is warm or cooler.
Shades for warm floors
The most suitable tones for creating warm atmospheres are beiges, natural tones inspired by elements such as earth and light browns. Greyish tones inspired by stones tend to be used to create cooler atmospheres.
Benefits of warm soils
The benefits of warm soils can be summarised as follows:
They create relaxed spaces.
They create brighter rooms.
They generate a greater feeling of spaciousness.
Their neutrality makes them easier to combine.
Examples of warm soils
Some examples of warm floors that you can find at Rocersa are the following: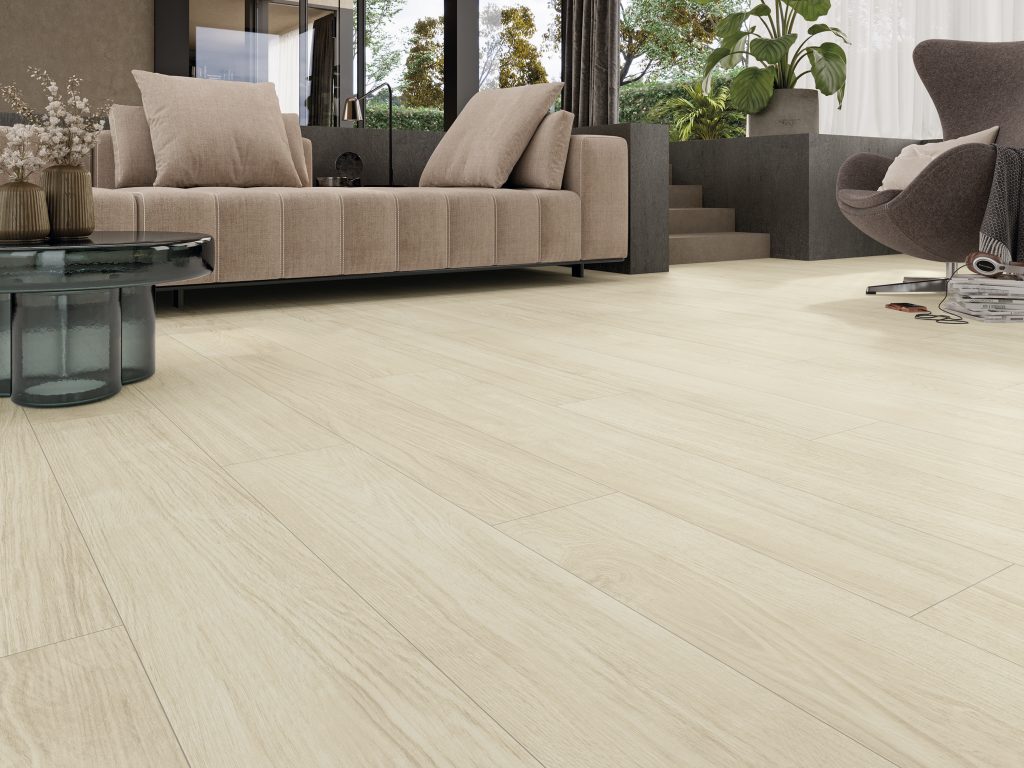 Taiga is an imitation oak wood porcelain tile that you can find in different tones: Beech, Grey and Natural. The Beech base is our favourite to achieve a warm and cosy atmosphere at the same time.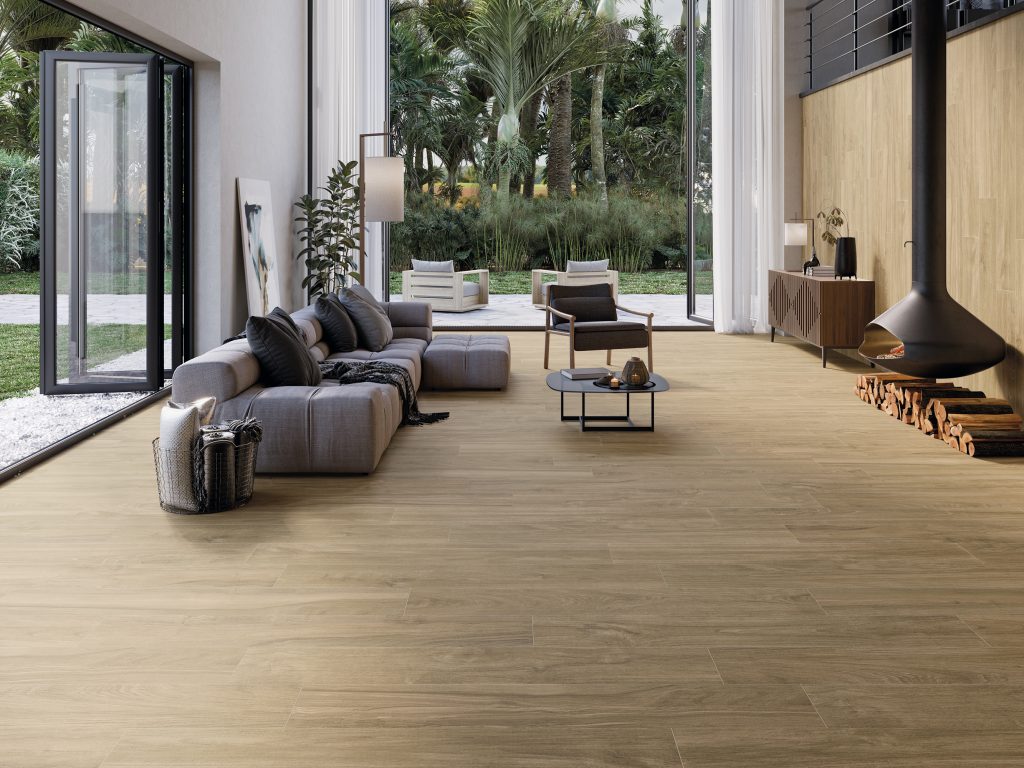 In the Hannover collection, elegance is the true protagonist. This oak wood imitation porcelain tile is, without a doubt, one of the warmest Rocersa pieces in the catalogue. It is an ideal collection for creating cosy spaces, which you can find in the following colours: White, Honey, Oak and Wallnut.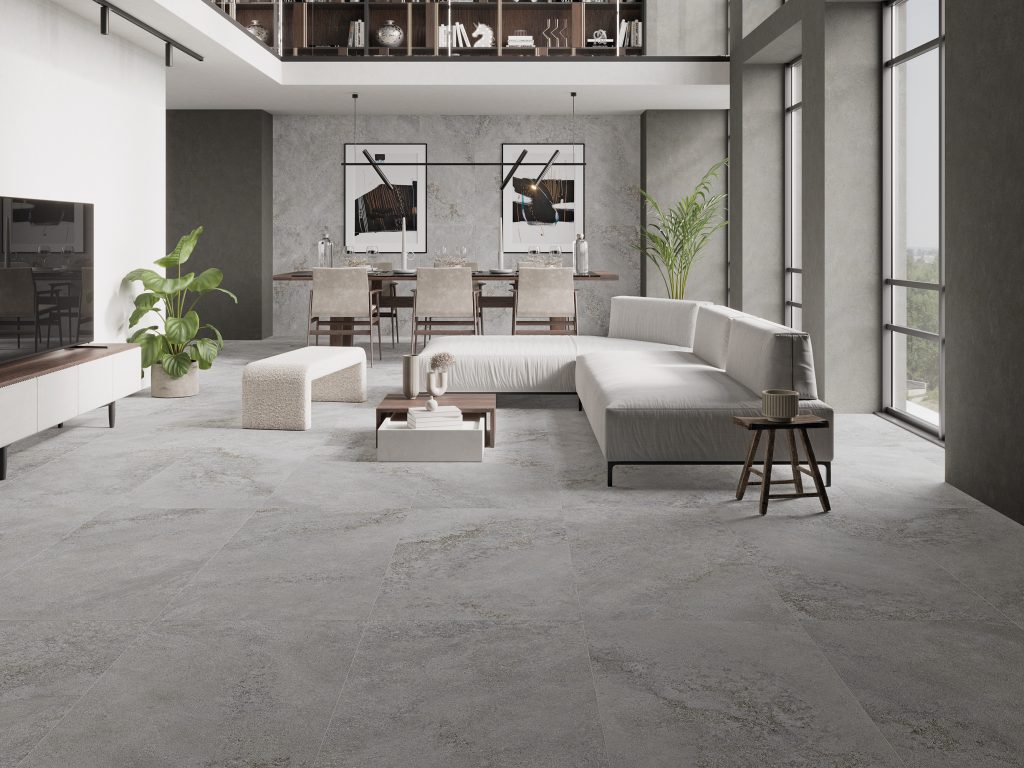 Stone can also create cosy atmospheres. Proof of this is the Omega collection, where luminosity and textures become the true protagonists. It is available in many different tones, although one of the most outstanding is Greige, a soft and versatile colour that combines with many different tones.
Now you know, the keys to a cosy atmosphere are: a good choice of flooring, good lighting and warm, neutral colours.
On our website you can discover our flooring collections to create the atmosphere you want!