Rocersa collections for sustainable architecture
From 5 to 8 April ROCERSA exhibits at Coverings 2022 (Stand C9239 in the Spanish Pavilion) to showcase its collections at the most important international exhibition of ceramic tiles and natural stone in the USA. After two years of pandemic, Rocersa moves to Las Vegas to show its latest collections.
Rocersa's new series are designed with the future in mind, to provide a solution for architecture that guarantees the highest level of well-being and development for citizens. The collections represent a synthesis of technique, cutting-edge technology and aesthetic research to offer real solutions to the architectural construction needs. These collections are ideal for spaces with a contemporary and minimalist air, thanks to their natural finishes, perfect for providing continuity from the inside to the outside of the home, giving it a greater sense of spaciousness.
The In&Out concept is trendy and is closely linked to projects where different technical features are needed indoors and outdoors. In order to achieve this effect, Rocersa combines 20 mm products (#OUTDOOR20) with the standard thickness product family. This allows the design of spaces with multiple combination possibilities both in private homes and in commercial and high-traffic spaces.
Environmental care is a priority for Rocersa (#EcoLifeStyle). The company is aware that societies are changing and evolving towards models of life, production and consumption that are more sustainable, which is why Rocersa's ongoing commitment to respect and protect the environment has materialised in a number of different actions, products and projects. Among them is the VIKER family, which is a thin porcelain and white body product, ideal for new construction or renovation projects. It is Rocersa's proposal for a product that facilitates installation and allows energy savings in both manufacturing and the lower consumption of raw materials.
We are committed to sustainable management procedures, to implementing the circular economy, to efficient consumption of water resources, to recovering thermal energy… In general, to technological improvements that help us to avoid altering the environmental values of the environment in which we live.
Click here to get your invitation.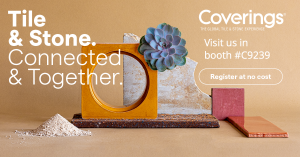 THE MAIN NEWS FROM ROCERSA IN COVERINGS ARE THE FOLLOWING:
Rotterdam: replicates the tones, veins and textures of natural wood, with all the advantages of porcelain stoneware. Available in 5 different colours (Grey, Nature, Noce, Rovere and Haya) to enjoy natural and contemporary finishes that make a warm and homely space. The 29,5×120 format in special OUTDOOR20 rectified, is perfect to give continuity from the interior of your home to your patio, garden or terrace. Porcelain tile available in 25×150 cm RC, 20×120 cm RC, 22,5x90cm; and white body in 33×100 cm RC.
Hannover: imitates oak wood, its tones are natural and warm (White, Honey, Oak and Wallnut), which makes this collection a must for practically any home, the fashion equivalent of the classic "wardrobe essentials" with a modern touch and also associated with the Emotional Care ceramic trend. Its combination creates spaces with multiple possibilities and personalises them to the maximum (In&Out). Designed for indoor and outdoor environments in 10 mm and 20 mm in the formats 20×120 cm RC, 25×150 cm RC and 29,5×120 cm RC OUTDOOR20; as well as in white body 33×100 cm RC.
Aran: designed as an oak wood with waxed grain in warm, natural tones (Beech, Grey and Natural). This collection is perfect for indoors, as it creates cosy spaces typical of the most serene nature. Aran is only available in 20×120 cm RC format and gives rise to multiple combinations with special pieces.
Loira: a collection with a knotty oak wood look, ideal for interior spaces. This collection creates warm spaces in Beech, Natural and Walnut tones. Elegant and rational, Loira is available in the 20×120 cm RC format, and combines perfectly with other marble effect collections and can be customised with special and complementary pieces.
Taiga: a porcelain tile collection that imitates oak wood, which is able to adapt to any space from the most rustic to the most minimalist decoration. This ceramic series is available in Haya, Grey and Natural tones, only in 20×120 cm RC format, and provides a feeling of spaciousness and a continuous floor. Taiga can be used alone or combined with special pieces.
Kenzo: fuses natural cements, a mix with graphic movement within the same tone that provides a relaxing sensation of mental wellbeing. This collection is completely VIKER, a product developed in thin porcelain, ideal for new construction projects or renovations. Kenzo has a wide range of trendy shades: White, Beige, Silver, Graphite, Blue Grey and Dark in 30x60cm RC, 60X60cm RC, 60X120cm RC and 100x100cm RC formats; ideal to fit and coordinate any space.
Juno: inspired by Calacatta marble history in a matt and silky finish. Its natural White colour is ideal for combining with stone, cement or wood, both on the floor and on the wall. Juno is inspired by the Elegant & Refined reinvented trend, taking our Calacatta Gold collection to a super soft matt finish that is very pleasant to the touch and is VIKER, Rocersa's proposal for a product that facilitates installation and allows energy savings in manufacturing. This series is available in 30×60 cm RC, 60X60 cm RC, 40×120 cm RC, 60X120 cm RC and 100×100 cm.
Omega: inspired by stone that elegantly decorates the spaces of the home in White, Grey, Greige and Graphite tones. Omega is designed for both indoor and outdoor use, with In&Out it is possible to unify several spaces without losing the harmony of the environment. This porcelain tile can be combined in its four tones with the LINEN relief to bring originality and dynamism to the decoration, available in 31,6×60,8 format. The formats of this collection are OUTDOOR20 in the formats 100×100 cm RC, 60×120 cm RC, 60×90 cm RC and 60×60 cm RC; and for interiors 100×100 cm RC, 60×120 cm RC, 60×60 cm RC and 31,6×60,8 cm.
Abba: with a sober yet renewed style, it is inspired by nature with its White, Smoke, Grey and Anthracite tones. This porcelain tile imitates stone and has its origin in salatto cement, typical of modern environments. Abba is available in 31.6×60.8 cm, 60×60 cm RC and 60×120 cm RC formats. Moreover, its relief conveys a handcrafted aesthetic, available in Range White, Range Smoke, Range Grey and Range Anthracite (31.6×60.8 cm).
Arley: a collection inspired by limestone, where flooring and cladding are unified to give an immediate impression of spaciousness. Arley is a series of warm tones (White, Grey and Cream) in 31.6×60.8 cm, 60×60 cm RC and 60×120 cm RC formats; with relief options in Island White, Island Grey and Island Cream (31.6×60.8 cm).
Cannes: originates from quartzite stone with fine white veins and stands out for its perfect natural result. Cannes is available in White, Cream and Grey; in 31.6×60.8 cm, 60×60 cm RC and 60×120 cm RC formats. This collection is decorated with the Eve relief (31,6×60,8 cm), a subtle and linear relief with different textures.
 Titan: of industrial inspiration, it enriches spaces and decoration, surprising the viewer with its style and the strong personality of its Steel, Dark and Copper tones. Its great graphic richness makes this series perfect for creating unique and unrepeatable spaces. Its combination with marble or exclusive woods makes both pieces enhance each other creating unequalled decorations. Available in porcelain tiles 100×100 cm RC, 60×60 cm RC and 60×120 cm RC; and white body 33×100 cm RC. Ideal for In&Out spaces thanks to its OUTDOOR20 formats: 100×100 cm RC, 60×60 cm RC and 60×120 cm RC.