Outdoor solutions for architectural projects.
In today's blog we talk about Outdoor20, its technical possibilities and all the advantages it can bring to your project.
What are Outdoor20 solutions?
Outdoor20 by Rocersa are porcelain tiles designed for outdoor use with 20mm thickness. Given their high technical characteristics, our products are suitable for all types of outdoor spaces such as terraces, swimming pools, but also high traffic areas such as garages and public places.
Ceramic is the perfect material for any architectural and construction project. Having Outdoor20 as one of the materials for your project means opting for innovation, quality, resistance and durability.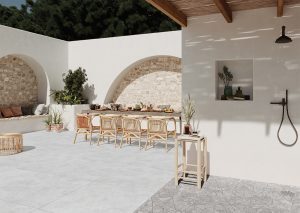 Do you need the best technical solutions for your architectural projects?
As a professional, every project you face is a challenge. Your clients talk about aesthetics, about sensations, about how they want to feel when they enjoy their home. But you know that the choice of exterior paving for a residential space goes far beyond the decorative style.
For this reason, you need materials that not only match the tastes of your customers, but also provide a solution to the different needs of use and technical characteristics of the project. Outdoor20 is the solution.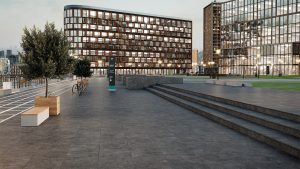 Integral solution with In&Out.
When we talk about Outdoor we refer to collections with technical features suitable for outdoor use. We have collections that can be used both indoors and in 20mm thickness for outdoors. In this way, you choose a collection for all the rooms in your home, projecting the interior to the exterior of the house will give you aesthetic continuity and a greater sense of spaciousness. The limit to creativity is set by your imagination.
With the different pieces and finishes, you will have a multitude of customisation options at your fingertips. The same design can be used in different spaces, giving visual continuity to the rooms. Even if you combine complementary pieces (e.g. swimming pool) from the same collection, you will create a visual effect that will give consistency and coherence to your project.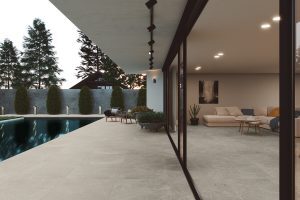 Technical characteristics of porcelain tiles for outdoor projects.
Rocersa's Outdoor20 range is 20mm thick and it is precisely this thickness that makes the difference. At Rocersa we are specialists in the production of 20mm thick ceramic tiles for residential and public use with high traffic.
If you are already convinced, check out all our collections in the following link (link to: https://www.rocersa.com/outdoor20-suelos-exteriores/). And if not, read on, we have much more to tell you.
Outdoor20 products can be installed on different surfaces and with different techniques:
Dry laying on grass, sand or gravel.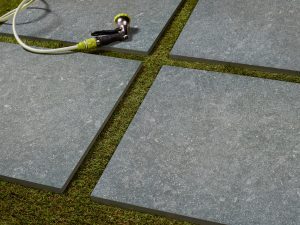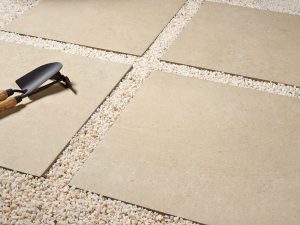 Traditional laying with cement glue.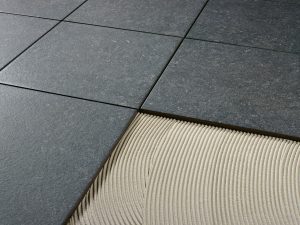 Installation on floating supports or plots.
A system that surpasses traditional performance, providing the space with greater soundproofing, thermal insulation and resistance to humidity.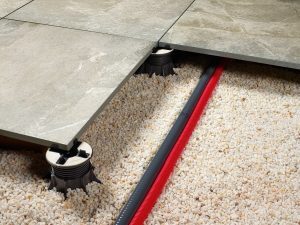 What are the advantages of Outdoor20 solutions for your clients?
If you have to use Outdoor solutions in your architectural projects, we recommend that you inform your clients of all these advantages of Outdoor20:
Easy to clean
Slip-resistant
Mould and mildew resistant
Easy to replace
Stain resistant
Resistant to sudden changes in temperature
Scratch resistant
Fade resistant
Frost resistant
Resistant to salts
Acid and chemical resistant
Outdoor20 by Rocersa is much more than a finish, it is a way of understanding innovation. Opt for Rocersa for your architectural projects, opt for In&Out solutions. And join our network of professionals on LinkedIn (link to: https://www.linkedin.com/company/rocersa/)