The Nordic style has captivated millions of homes around the world with its simplicity, naturalness and luminosity, three of the most fundamental pillars of this type of decoration.
Its name is due to its place of origin, as it is in the Nordic countries (Norway, Sweden, Finland and Denmark), from where it began to spread, places where winters are long and light is a very precious commodity.
The characteristics of the countries where it originated are the ones that mark the keys to a decoration that continues to dress design houses in every corner of the planet: Nordic decoration.
Keys to Nordic decoration
We have compiled 5 keys to Nordic decoration that will help you create the perfect space:
Constructive sincerity
It may seem at first glance that constructive sincerity is a characteristic unique to the industrial style of decoration, but nothing could be further from the truth. Although it is a concept closely linked to the New York industrial warehouses that gave way to the industrial style, constructive sincerity has also become a pillar of the new Nordic decoration, highlighting in the environments some construction elements that do nothing more than embellish the spaces: load-bearing walls, exposed brick walls, wooden beams, cladding… Elements that are visually recovered to incorporate them as great decorative tools of the Nordic style that will be worn this season.
Spaces with light
Maximising natural light is essential to be faithful to Nordic decoration. Large windows without blinds, colours that enhance the brightness of the spaces, providing a few points of light in key places through lamps and spotlights?
Light is the element that can help us to highlight what we want, we must know how to use it well so that it becomes a key tool in the decoration.
Opt for relaxing lighting through pendant lamps or Edison bulbs with exposed wiring, a leitmotiv in Nordic deco.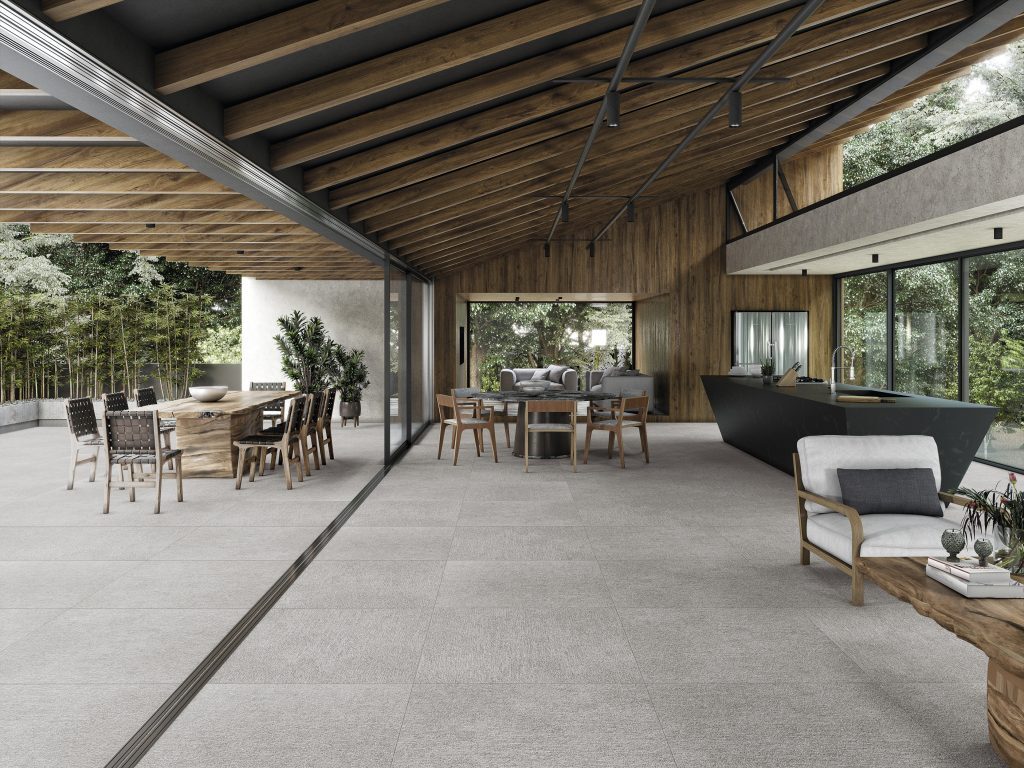 White as the main colour
The king of Nordic interior design is the colour white. In Nordic spaces, the aim is to create bright, spacious environments… and to generate this sensation there is no better ally than the colour white.
It is a colour suitable for bathrooms, kitchens, bedrooms, living rooms, offices… We can see it in any space and anywhere, in wall coverings, floor tiles, furniture, textiles such as cushions, curtains, blankets, duvet covers, sheets, towels, doors…
There is no place where white is not an accepted colour!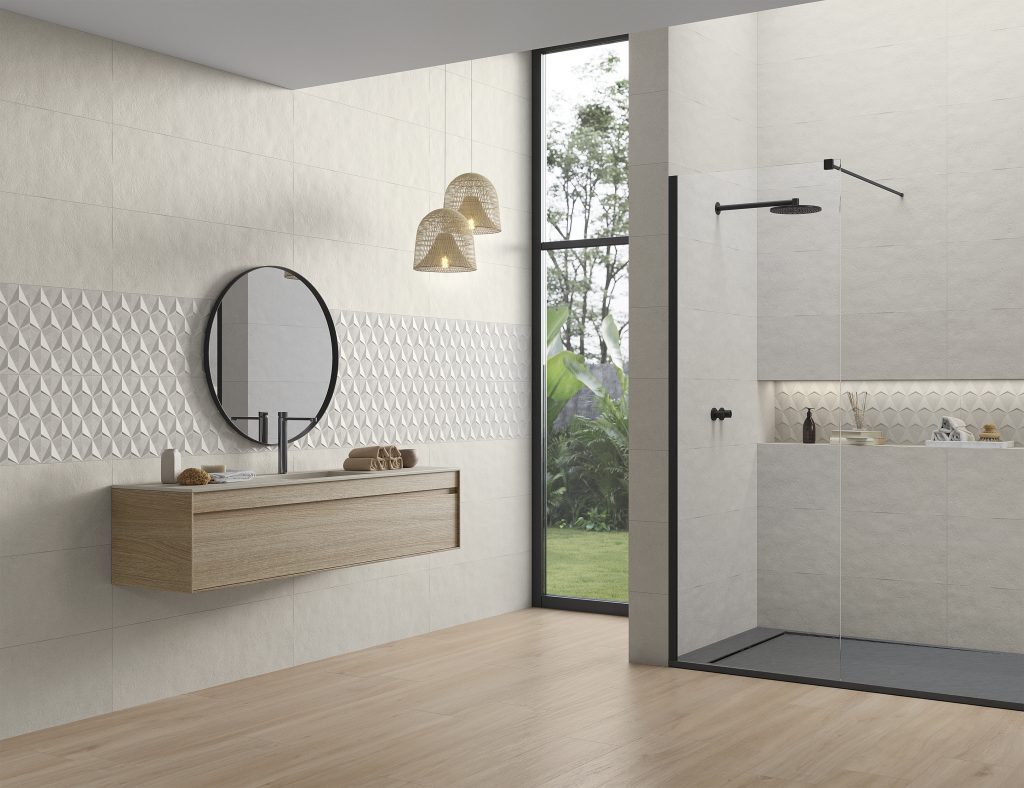 Wood
Wood lovers should go for the Nordic style, because wood is its main element. Together with white, they are the most important keys of this decoration that never ceases to amaze us. But not just any wood, pine wood is the preferred wood, for the floor and also for the furniture.
Today there are options to simulate pine wood on the floor with porcelain tiles, floors much more resistant to the passage of time that offer many benefits and an unbeatable aesthetic.
At Rocersa we offer perfect ceramic proposals for this deco, for example: the Rotterdam Collection, a collection formed by a porcelain tile that highlights the naturalness and serenity of the most noble woods.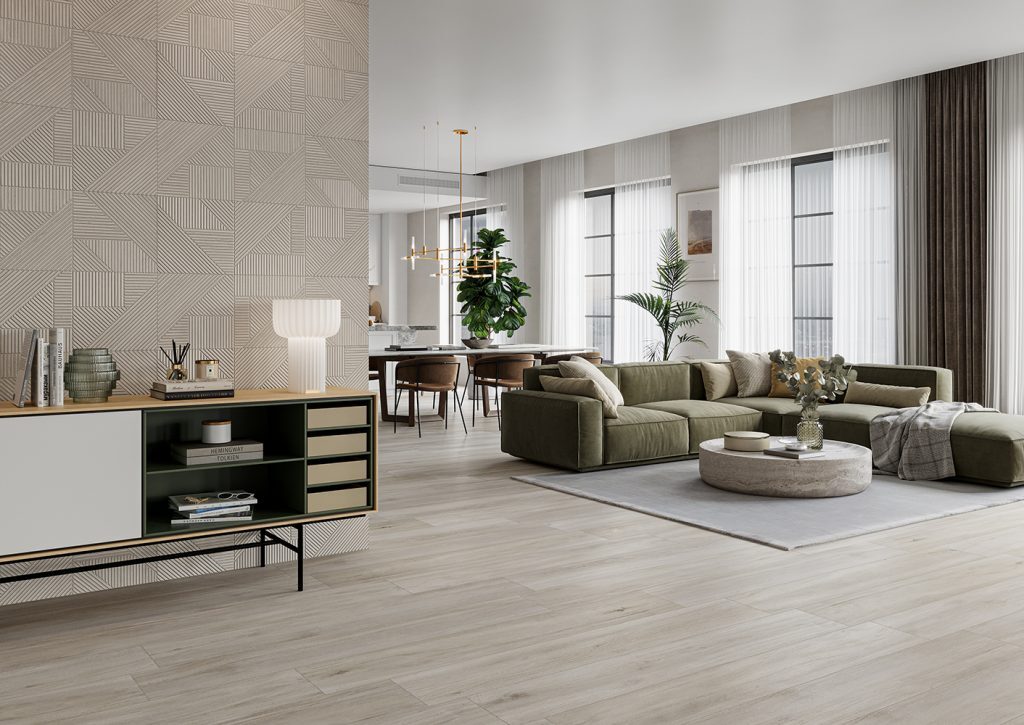 Nature is a crucial decorative resource for the Nordic style!
DIY
The DIY (Do It Yourself) philosophy fits perfectly with Nordic decoration. These spaces are full of handmade furniture: decorative pieces made from logs, restored furniture, from sideboards to wardrobes or headboards for the bed. It is a decoration in which all kinds of handmade pieces fit in, such as coat racks made with branches, handmade crochet blankets, ceramic objects…
What began as a subtle decorative trend has now become the star decoration style in many countries. Its success lies in the pillars we mentioned at the beginning: naturalness, simplicity and light, lots of light!