Geometric shapes and patterns have been in our lives for a long time. The geometric universe gives us the possibility to expand spaces, giving them the visual depth necessary to get lost in any environment. The personality and character that geometry brings are other factors that lead many decorators to use geometric motifs to decorate certain interiors.
At Rocersa we have been working for years with products that include this type of patterns and that is why we have decided to tell you a little more about geometric decoration: what it consists of, how to use geometric motifs correctly, through which elements to incorporate them, and much more.
Find out more about this trend that, despite not being something new, continues to be used continuously in interior design.
What is geometric decoration?
Geometric decoration is a type of decoration of Muslim origin. It is mainly based on the use of elements that have used this discipline of mathematics to embellish spaces.
It is a decoration that does not want to go unnoticed, it wants to capture all the attention, it wants to make the floor the protagonist, the walls, the textiles?
It is a decoration that evokes joy and dynamism.  And even, when used well, it can remind us of futuristic trends.
How to use geometric decoration without going overboard
Geometric decoration can take over spaces. Using it correctly and not overdoing it is the key to success. It is recommended to incorporate small geometric brushstrokes, or to place it on floors and walls together with subtle elements that soften its power and do not overload the space.
How to incorporate geometry in decoration
Geometric decoration is a very fun trend that can be incorporated through many elements. Here are a few examples:
One of the most common ways of incorporating geometry into decoration is through ceramics.
It can also be incorporated through furniture with geometric shapes. This is what is known as polyhedral furniture and these can be: bedside tables, coffee tables, dining tables, chairs, ceiling lamps, etcetera.
Through textiles: there are many rugs on the market with geometric patterns, as well as blankets, cushions, and other elements such as these that help us to add a geometric touch without making large investments and major changes to spaces.
Ceramics with geometric motifs
Ceramics, as we mentioned before, is another option for incorporating geometric patterns into decorations. It is a very avant-garde resource that is used in interior design all over the world because it generates a break with the flatness of the surfaces, providing a unique effect that would not be achieved with another type of 'drawing'.
Our products
Here are some of the Rocersa products that are perfect for geometric decorations, products from the new collection that you can also see in our catalogue:
Hardblue Collection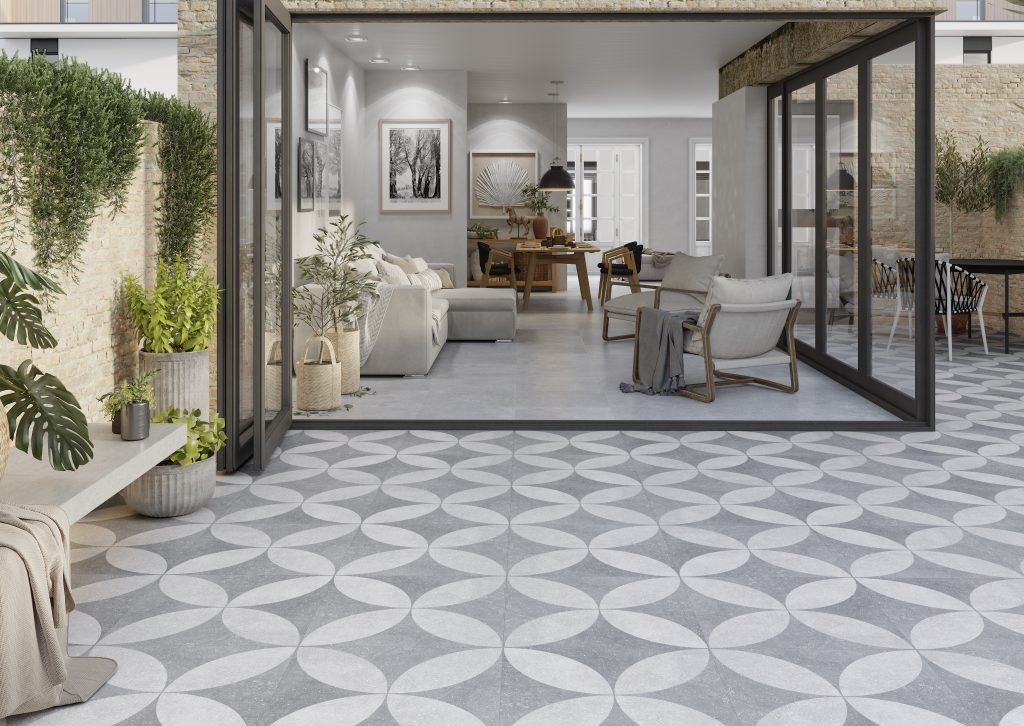 This is one of our star collections. It stands out for its style and harmony. Totally based on geometric patterns that seek to fill spaces with rhythm and light.  The personality of this collection makes it totally timeless, despite future changes in trends, it will continue to be a must have in all types of spaces.
Rotterdam Collection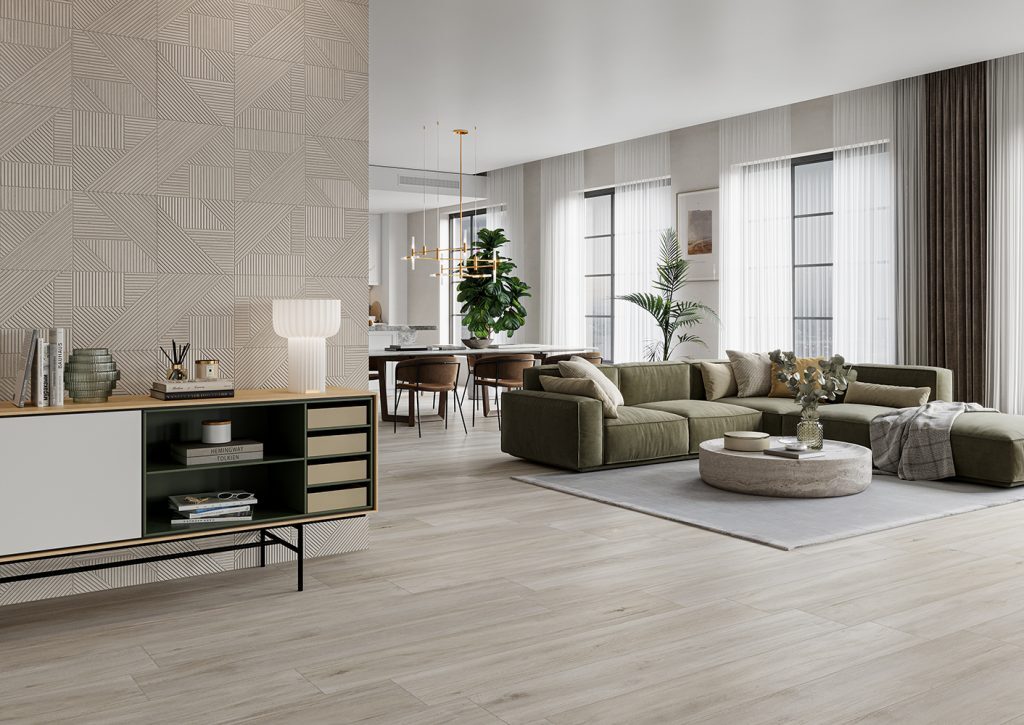 Rotterdam is a collection that imitates the tones, veins and textures of natural wood, but has all the advantages of porcelain stoneware. It has different coverings and all of them are perfect for the most contemporary spaces. One of these wall tiles provides the geometric touch we were talking about: the 33×100 wall tile.
Coralstone collection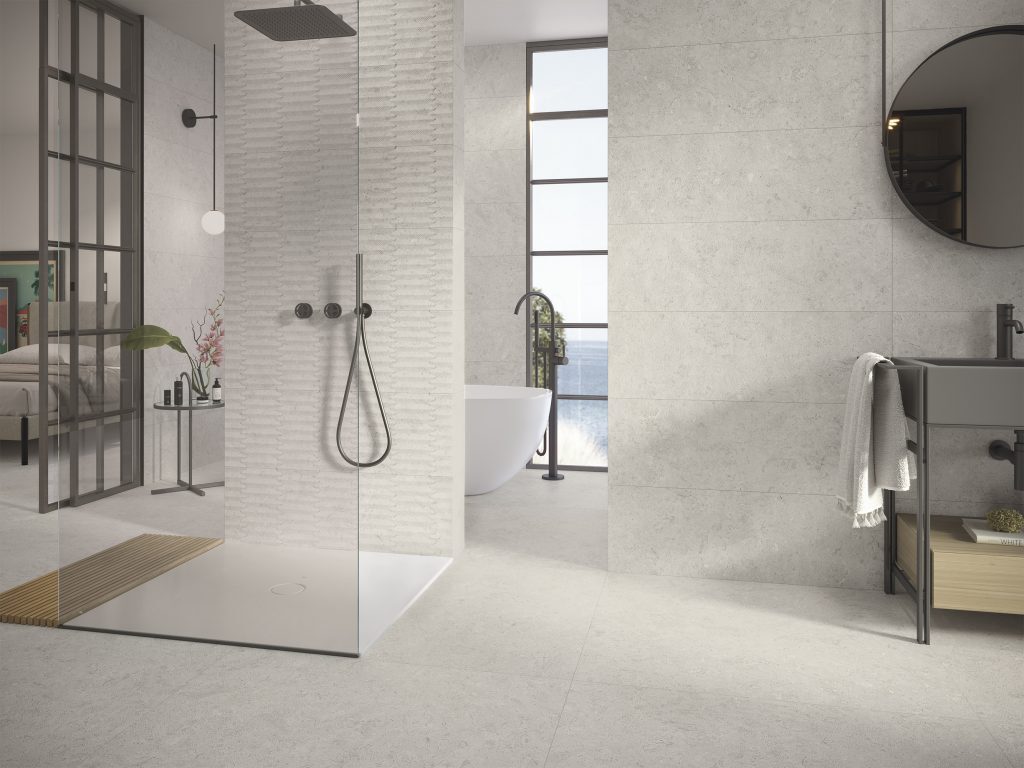 Another collection that stands out for this type of deco is Coralstone. One of Rocersa's new proposals available in different coverings, some of which are also perfect for creating spaces full of textures and reliefs. The Reef 33×100 cladding is in charge of providing the geometry to the spaces.
Livermore collection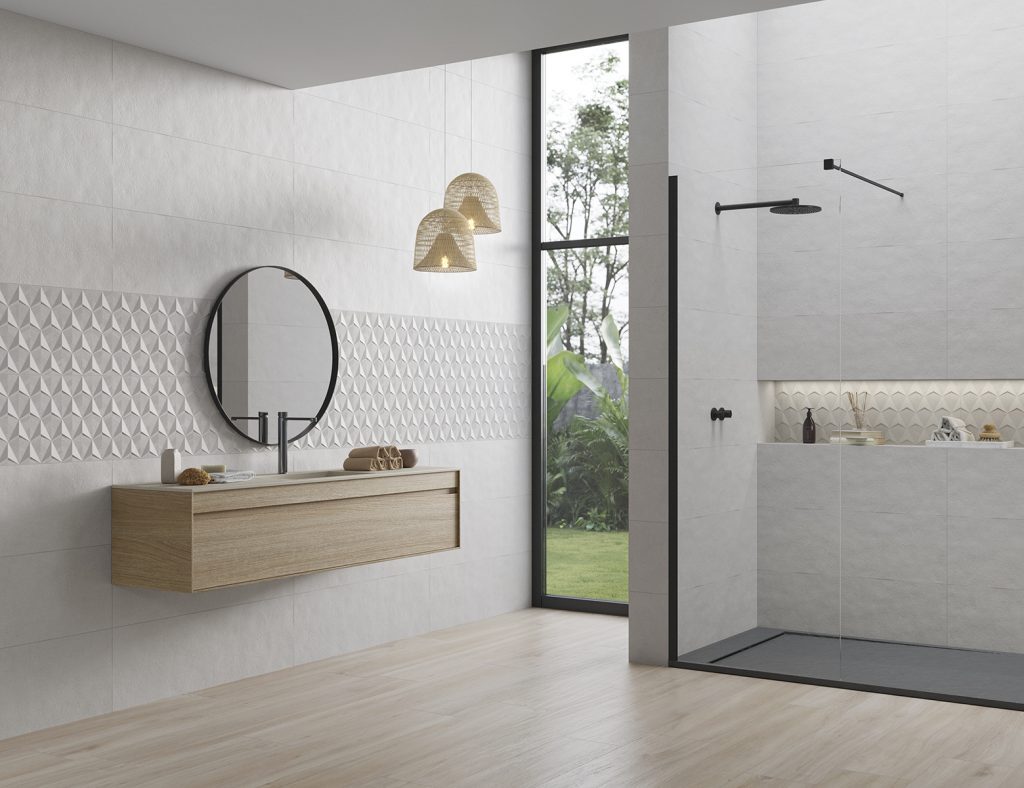 The Livermore collection, with an extremely realistic and natural appearance, is perfect for decorating contemporary spaces. This collection is offered in different versions and is inspired by Limestone. Its tones are very natural, making it the ideal collection for the creation of atmospheres where luminosity is to be enhanced. The geometric decoration is provided by the Atria 33×100 covering.
If you want to take a look at this year's ceramic trends, visit our website and discover all the collections.