Ceramic solutions to guarantee safety in your wet and outdoor area projects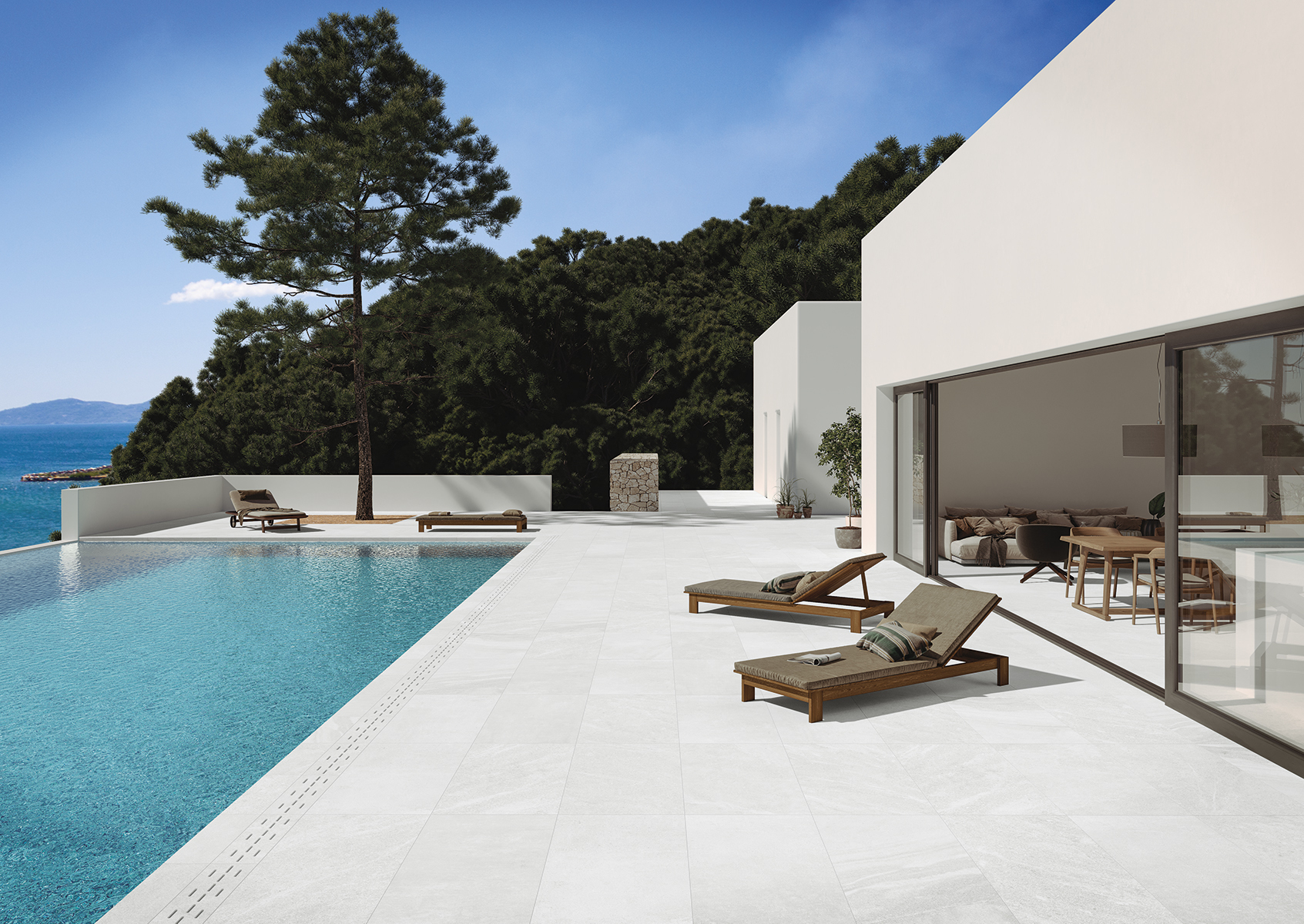 Valley White 60x120cm OUTDOOR20.
Is it a good idea to use ceramic to guarantee safety in swimming pools?
In fact it is the best option, our passion for innovation has allowed us to be one of the first companies to develop 20mm porcelain tiles, being a world reference and undisputed leader in the technological development of the ceramic sector. An exclusive technology through which the protagonism of the material is part of the production process.
Rocersa, the leading Spanish producer of 20mm and a world benchmark in the sector, manufactures an outdoor product with high performance and great technical characteristics, designed for use in both public and private outdoor spaces.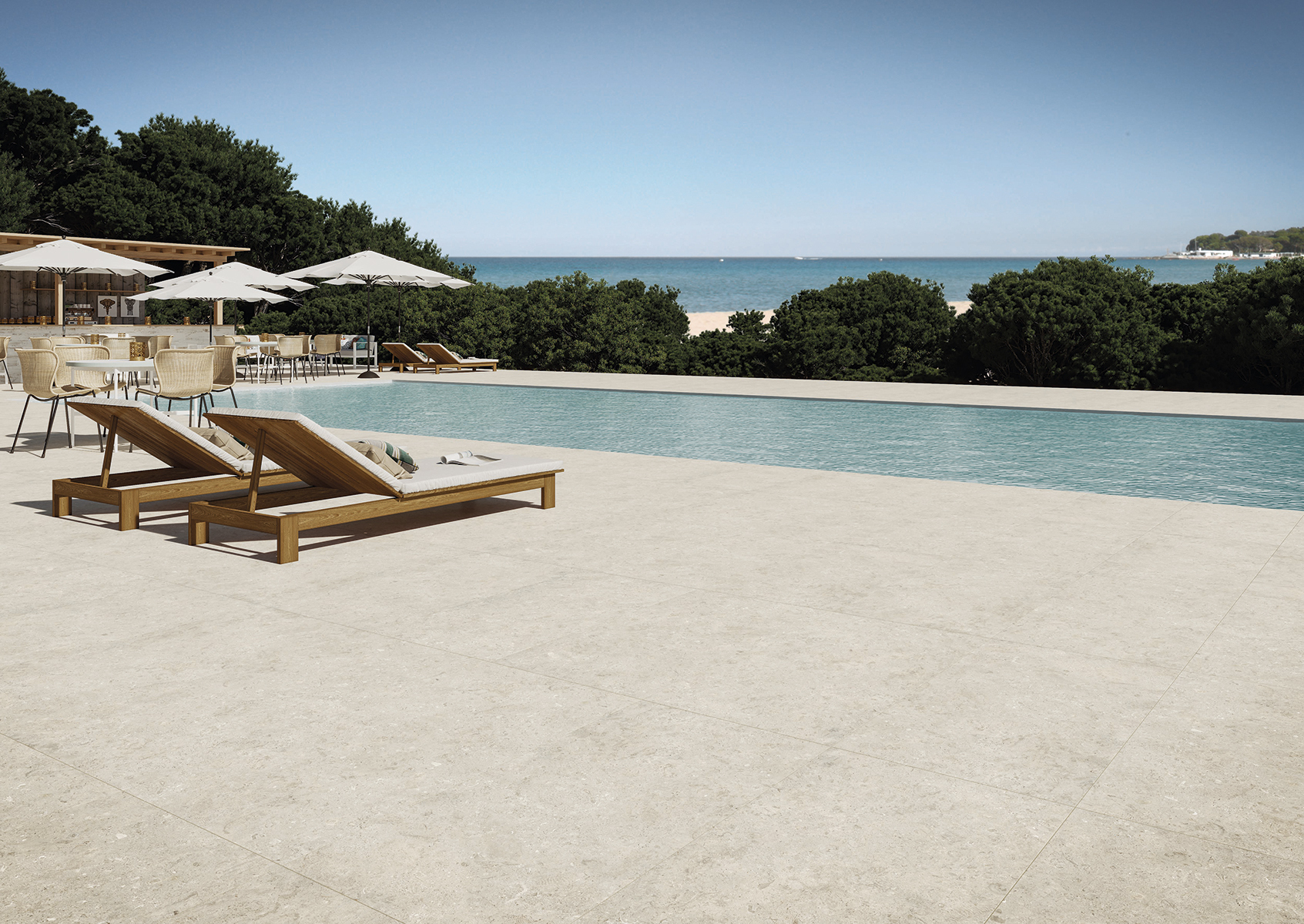 Coralstone Calcita 60x120cm OUTDOOR20.
Due to the continuous innovation and improvement of our manufacturing processes, at Rocersa we have replaced the characteristic roughness of the non-slip porcelain tile with a more uniform finish that is more pleasant to the touch. In other words, it has a smoother texture.
European standards for non-slip ceramics pay special attention to safety against the risk of falls in swimming pools. At Rocersa we are concerned about safety. That is why we comply with European requirements for non-slip porcelain tiles for swimming pools in accordance with German standard DIN 51130 (R11, inclination from 19 to 27º), DIN 51097 (A+B+C, up to 24º inclination in floor showers) and Spanish standard UNE-ENU 12600:2003 (Class 3, Rd > 45).
Rocersa porcelain stoneware is formulated and manufactured under strict design criteria focused on achieving very demanding mechanical performance while managing the resources used.
Our OUTDOOR20 with 20mm thickness multiplies by more than four times its resistance to breakage compared to other conventional porcelain tiles. Its formulation makes it unique in that it can be used directly as an integral material, without the need for much more costly supports and laying.
If you want to know more about our OUTDOOR20 ceramic offer, these are some of our collections ready to cover swimming pools and terraces: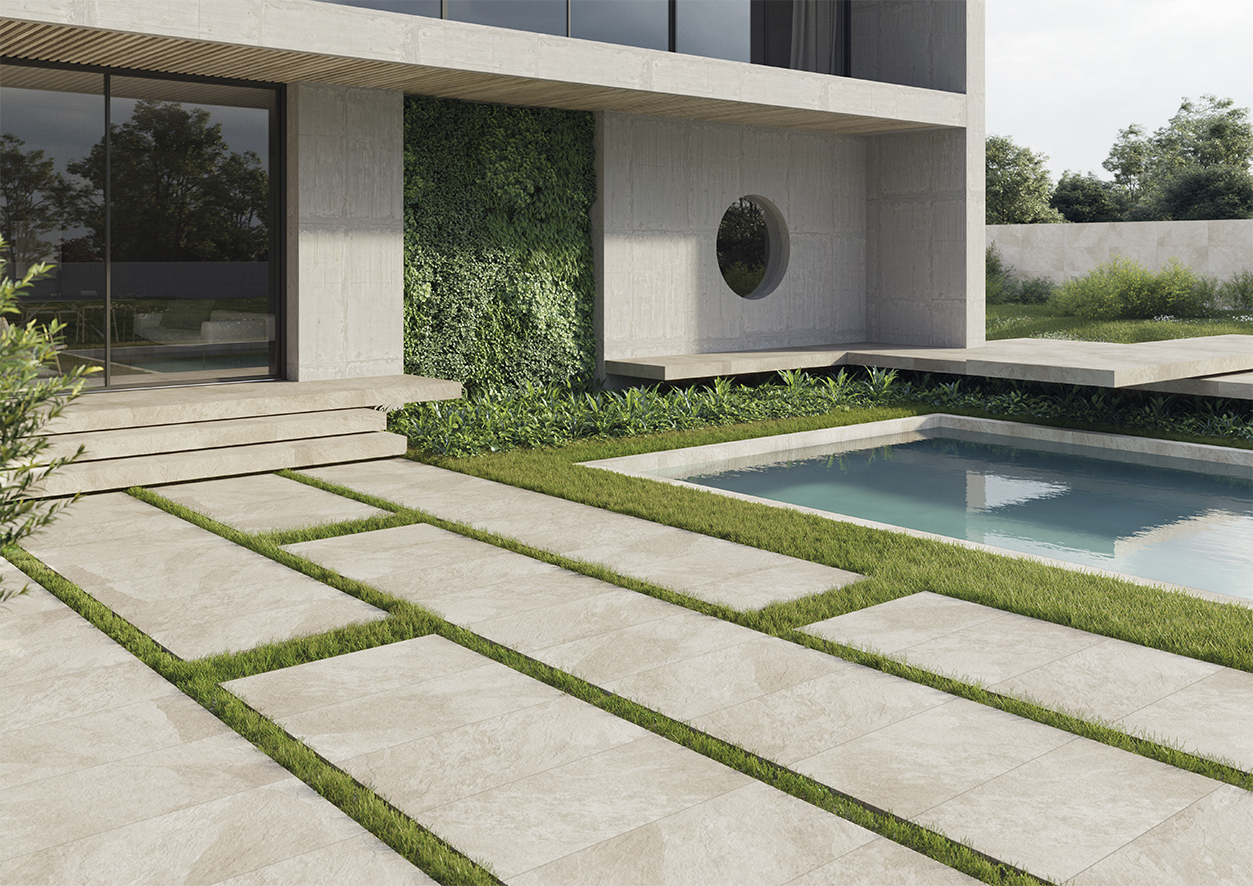 Axis Cream 60x120cm OUTDOOR20.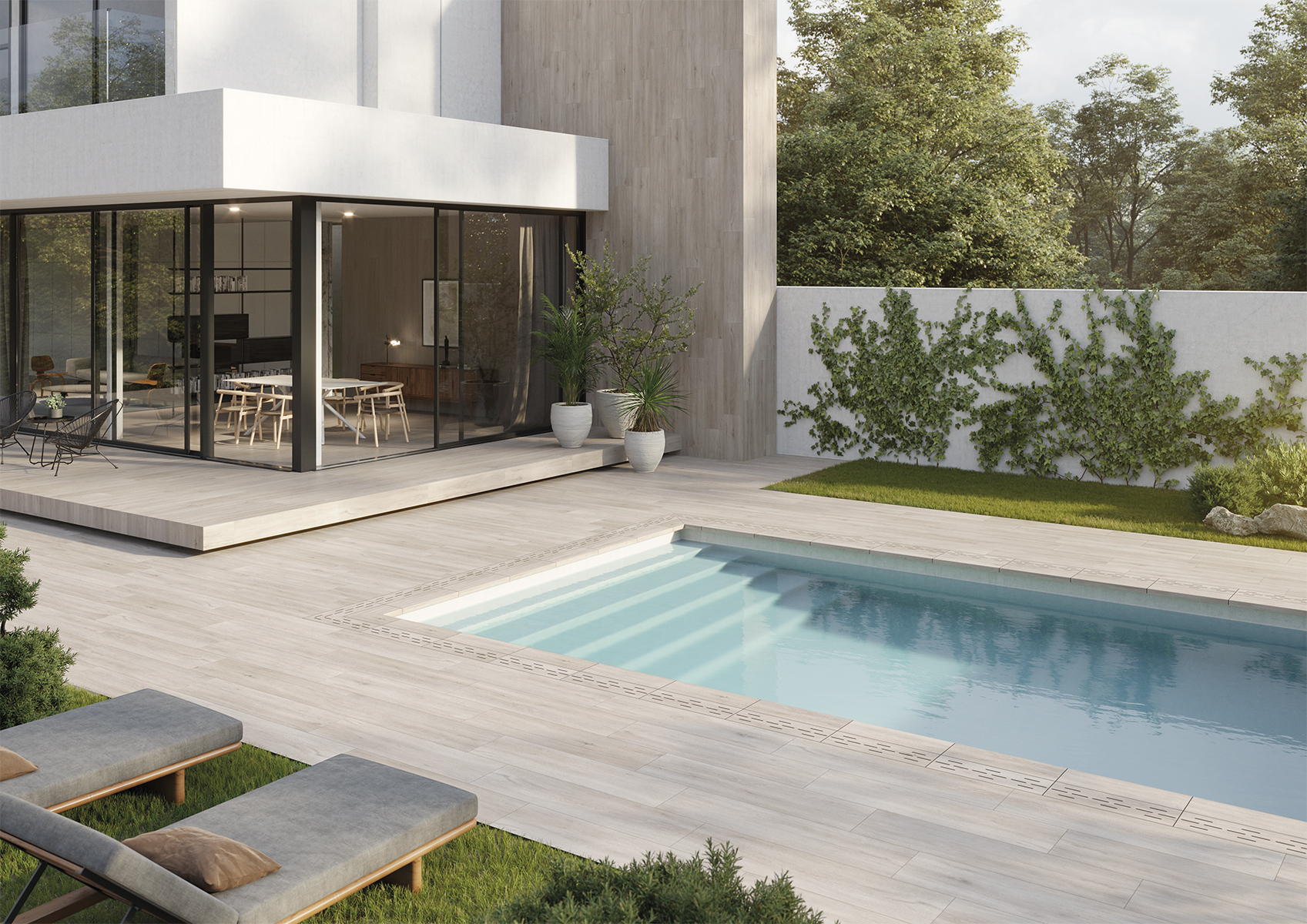 Rotterdam Haya 29,5x120mm OUTDOOR20.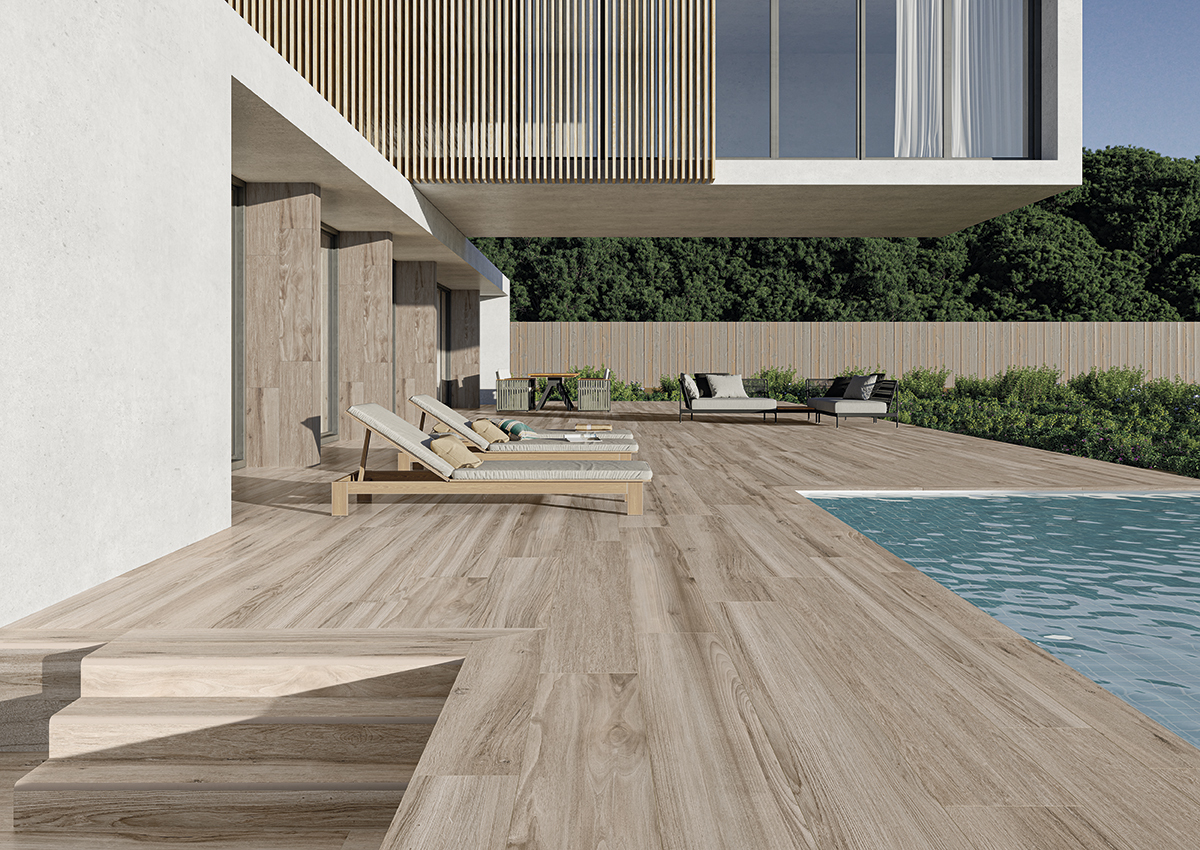 Flow Nature 29,5x120cm OUTDOOR20.
Advantages of OUTDOOR20 ceramic tiles
Its extraordinary resistance, ease of installation and sophisticated design allow OUTDOOR20 to be installed in practically any outdoor and, why not, indoor space. Imagination has no limits.
Resistance is the main advantage but it is also:
Easy to install and replace.
Easy to clean.
Resistant to moss and mould, salt and frost as well as sudden changes in temperature.
It does not discolour or change its aesthetics with acids and chemicals.
It is a material built under controlled parameters to respect the environment.
It does not need sealing.
It has a low maintenance cost.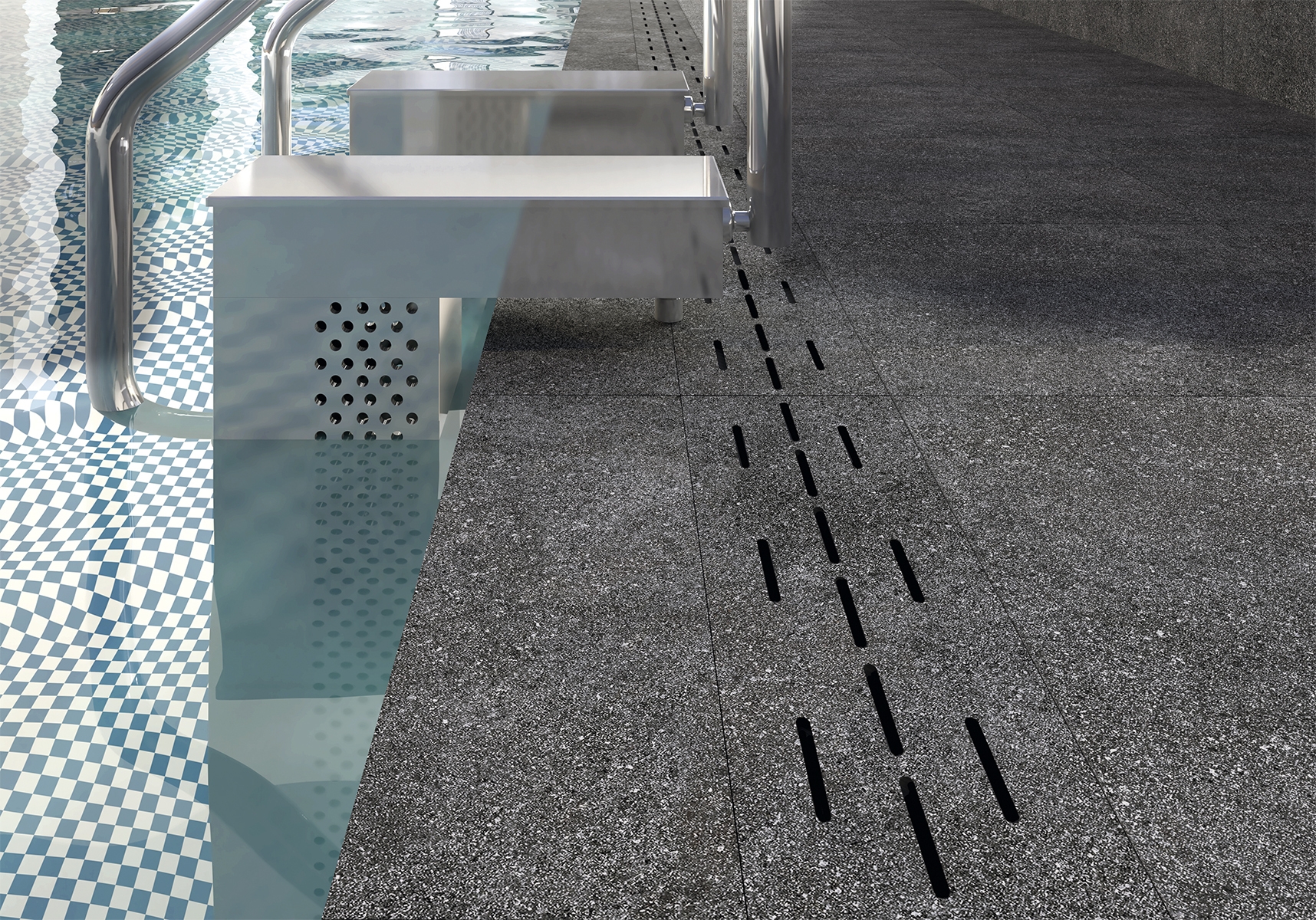 Livermore Black 60x60cm OUTDOOR20.
Installation and special pieces to guarantee safety in your swimming pool projects
To create an original and integral project, we have all kinds of technical solutions to achieve it. OUTDOOR20 can be installed in different ways: laying on grass, on gravel, traditional laying or laying on plots (raised floor).
Ceramic tiles complete its offer to adapt and personalise any space through special and complementary pieces. They not only have a decorative function, many of them are personalised giving rise to unique pieces, but also practical, among them you can find: steps, borders, grilles, pieces to include lighting, etc.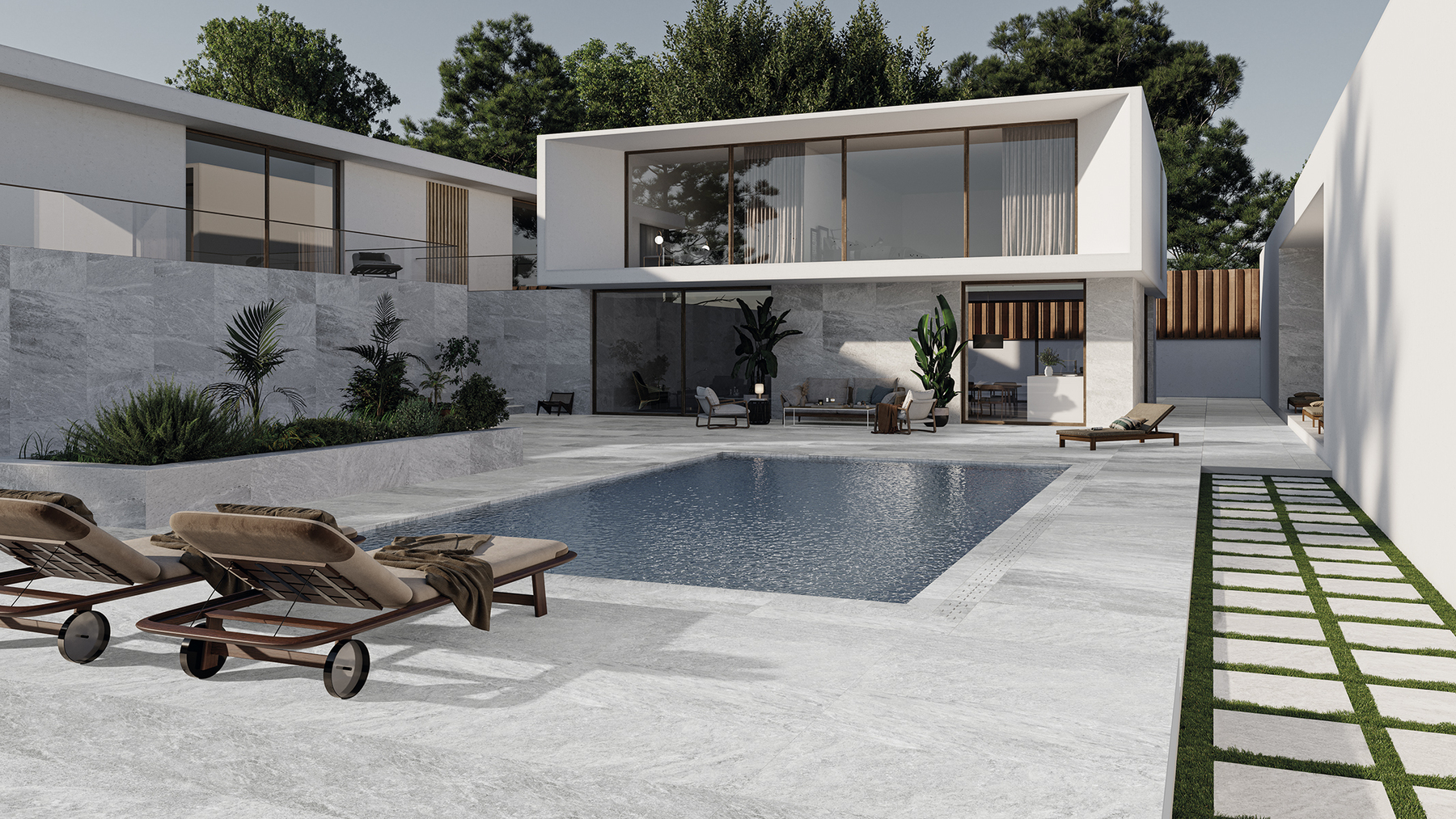 Stonehenge Grey 60x90cm | 60x60cm OUTDOOR20.
If you want more detailed information about the different installation techniques for outdoor porcelain tiles, we recommend you to watch our explanatory videos or read our outdoor catalogue at: https://www.rocersa.com/outdoor20-suelos-exteriores/
Inspiration for safe and stylish pools
At Rocersa we are committed not only to safety in swimming pools, but also to style.
In our catalogue you will find a wide variety of porcelain tiles in different styles and colours. Solutions to create comprehensive projects in which the outdoor solutions are aesthetically the same as the indoor pieces. The combination of OUTDOOR20 products with the standard thickness product lines offers a high level of design, flexibility and customisation. The IN&OUT continuity allows designers and architects to easily transition between indoor and outdoor spaces, multiplying the functionality and performance options in their projects.
The result is projects of great visual appeal and perfect technical execution, creating spaces to enjoy without worries.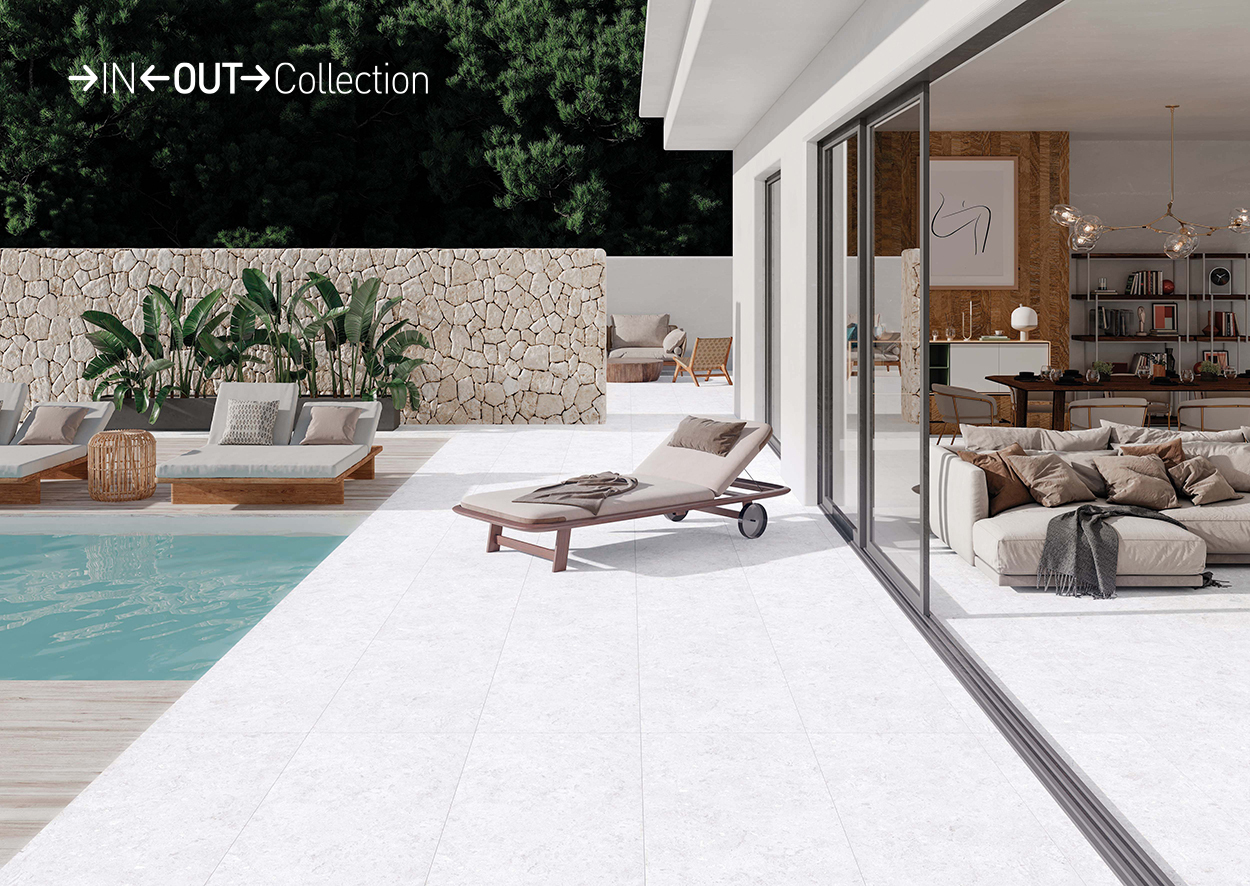 Coralstone Cottone 60x120cm OUTDOOR20.
We hope we have been an inspiration for your next outdoor project with swimming pool! Follow us on our LinkedIn account https://es.linkedin.com/company/rocersa.
Find more information on our website.